One of the New Year Resolutions that women should declare, if they have not already done so, is to practice self care. Skin care is among one of the many aspect of self care that women must implement. A good routine preserves your skin's aesthetics and health. Without further ado, I will share with you my current, post-shower nightly applications.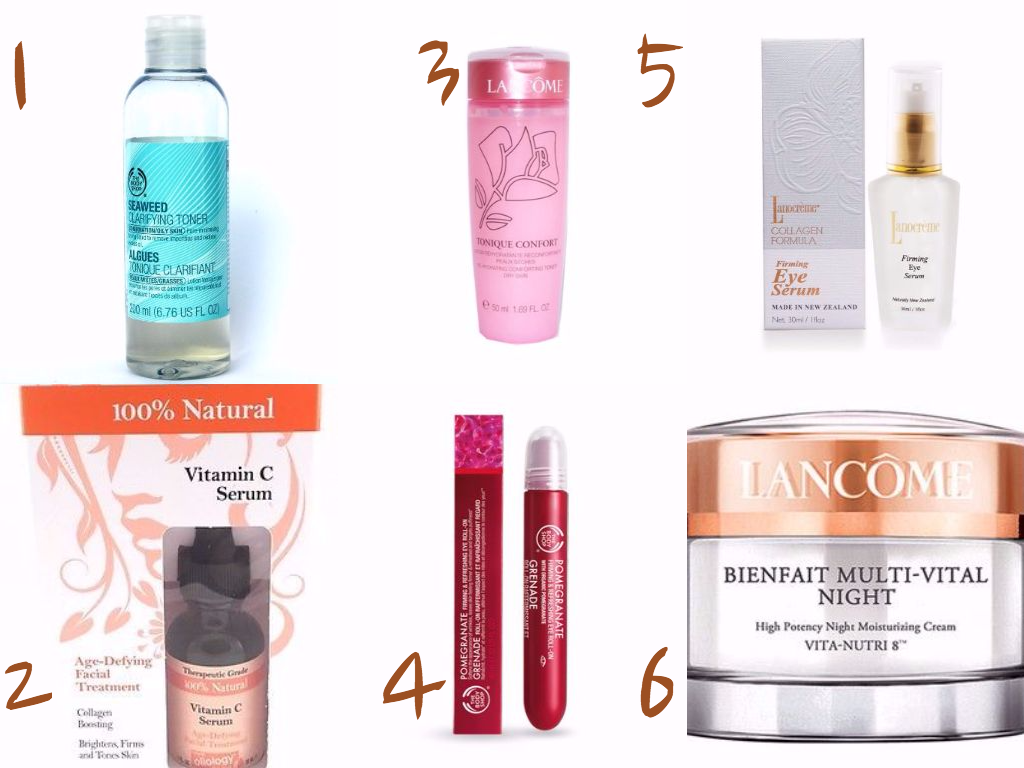 1. The Body Shop: Seaweed Clarifying Toner
This toner not only does its job of spreading preliminary moisture to my face, it also produces a cooling effect like no other toner I've previously used. Such sensation almost matches that of chewing minty flavored gum, with the sensual benefit and the much needed preparation for the next step of skincare.
2. Oliology: Therapeutic Guide, Vitamin C Serum
Despite being labeled #2, Oliology: Therapeutic Guide, Vitamin C Serum is used in conjunction with The Body Shop: Seaweed Clarifying Toner. I apply several drops of the oil to the toner and mix these products before application. In addition to the increased viscosity from the mix, this strategy combines the benefit from collagen and Vitamin C with that of the initial moisture,
3. Lancôme: Tonique Confort
Lancôme: Tonique Confort's high viscosity may appear sticky at first, but it feels anything but once you begin applying it evenly across your face. This is why I use it after applying The Body Shop's foundational toner. In addition to the enhanced moisture, which is much needed if you live in an arid region, this toner enhances the health of my overall complexion. Its performance is noted through its ability to rectify uneven tones on my face that emerged when I first moved from the coast to the desert. The issue with uneven tone never appeared again.
4.The Body Shop: Pomegranate Eye Roller
Although my under eyes aren't saggy, securing firmness of my under eyes with The Body Shop: Pomegranate Eye Roller further delays its onset. The little creases beneath the outer corner of my eyes – only visible when I squint my eyes – do appear less conspicuous after a prolonged use of this eye roller. After extended use of this product, I can say that I haven't observed any obvious, if any, signs of baggy eyes or additional creases. The rest is making sure that I get enough sleep.
5. Lanocrème Collagen Formula Firming Eye Serum
To lock in the benefits from the previous product, I apply the extra collagen from this eye serum to delay aging and impede the development of fine lines. This was a recent addition to my regimen, so I cannot comment on its long-term effects as of yet. I currently allow the skin absorb the ingredients before proceeding onto the night moisturizer.
6. Lancôme: Bienfait Multi-Vital Night
I end my routine with Lancôme: Bienfait Multi-Vital Night, a moisturizing night cream. Since I live in a dry region, including a night cream to your skincare routine becomes crucial for securing the moisture and maintaining softness. It also locks in the glow that my skin desires to emit. Finally, I experienced zero skin irritation from this particular moisturizer as I have with several other brands I've used. You don't want to go to sleep with a burning sensation that may cause insomnia.
In Conclusion…
Your mileage will vary. Different skin types require different products and regimen. People with various skin conditions should also consider potentials for dermal inflammations due to various ingredients. When in doubt, consult your dermatologist and read reviews by those with skin conditions similar to yours. The good news is that there are products for every skin type, so your options are not limited. You just have to take your time, do your research, and find the right ones for you.
Feel free to share your skincare routines in the comments below. I'd love to exchange ideas!